Canción de hielo y fuego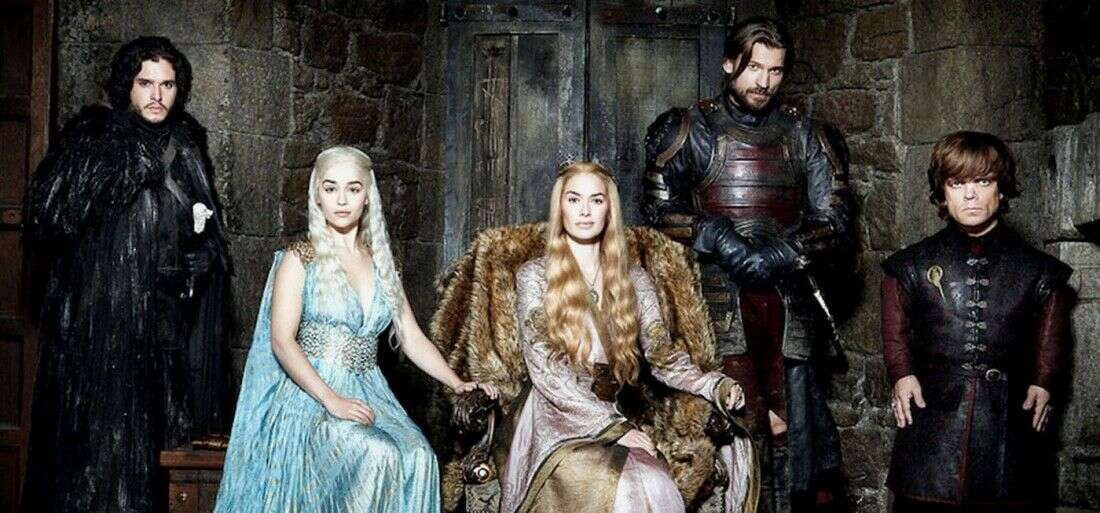 Game Of Thrones será recordada como una serie icónica,y pese a su final agridulce e injusto, podemos esperar que un par de episodios con tramas apresuradas y las infames palabras "arco narrativo" no empañen lo que fue una increíble experiencia para el espectador. Grandes actuaciones, producción de primer nivel, logrados efectos especiales para los estándares de televisión y claro música inspirada y sorprendente.
---
Por Rodrigo Vega
SEASON 1
El compositor de la música incidental de la serie es Ramin Djawadi (un compositor alemán que compuso la música de la primera temporada incluyendo el icónico tema principal de la serie, a solo 10 semanas del estreno. Inspirándose en música nórdica, medieval, india y clásica.
A lo largo de la temporada la melodía de la canción principal fue reinterpretada con distintos instrumentos y arreglos, brindando mayor dramatismo a su concepto según fuera necesario. Demás está decir que momentos sorprendentes de la temporada tienen tracks igual de llamativos "Things I Do For Love", "The King´s Arrival", "The Wall", "Fire And Blood" entre otras.
Track Listing
Main Title
North of the Wall
Goodbye Brother
The Kingsroad
The King's Arrival
Love in the Eyes
A Raven from King's Landing
The Wall
Things I Do for Love
A Golden Crown
Winter Is Coming
A Bird Without Feathers
Await the King's Justice
You'll Be Queen One Day
The Assassin's Dagger
To Vaes Dothrak
Jon's Honor
Black Of Hair
You Win or You Die
Small Pack of Wolves
Game of Thrones
Kill Them All
The Pointy End
Victory Does Not Make Us Conquerors
When the Sun Rises in the West
King of the North
The Night's Watch
Fire and Blood
Finale
SEASON 2
Para la segunda temporada de Game Of Thrones, el compositor Ramin Djawadi optó por explorar sutilezas en las composiciones y desarrollar temas de las casas, como la traicionera casa Lannister, cuya canción "The Rains Of Castamere" es el track destacado de la compilación y el single oficial.
Otros momentos destacados son "Winterfell", "What Is Dead May Never Die", "Mother Of Dragons" y el gran final "Three Blasts". Con fuerte uso del cello para acentuar los tonos oscuros de la segunda temporada y el debut de nuevos territorios como Quarth y nuevas casas como los Greyjoy.
Track Listing
Main Title
What Is Dead May Never Die
Warrior of Light
Valar Morghulis
Winterfell
Qarth
Wildfire
I Am Hers, She Is Mine
Pyat Pree
Don't Die with a Clean Sword
We Are the Watchers on the Wall
Pay the Iron Price
One More Drink Before the War
House of the Undying
Stand and Fight
The Old Gods and the New
Mother of Dragons
I Will Keep You Safe
The Rains of Castamere
Three Blasts
SEASON 3
La exótica tercera temporada con una Daenerys ganando poder, mientras los caminantes blancos sumaban fuerzas y la lucha entre Robb Stark y Kings Landing continuaba, merecía música más dinámica.
De esta manera tenemos "A Lannister Always Pays His Debts" que utiliza el sonido estéreo en sus arreglos para brindar mayor impacto. Mientras "Dracarys" incorpora flautas armenias en su música. Y "I Paid The Iron Price" dedicada a Arya Stark, es un arreglo de arpa. Mientras "Mhysa" sorprende por sus arreglos corales. Es la temporada donde tenemos The Red Whedding y en ella "The Lannisters Send Their Regards" es lo que más destaca.
El single elegido por el estudio es "The Bear And The Maiden Fair" intepretado por The Hold Steady.
Track Listing
Main Title
A Lannister Always Pays His Debts
Dracarys
I Paid the Iron Price
Chaos Is a Ladder
Dark Wings, Dark Words
You Know Nothing
Wall of Ice
Kingslayer
I Have to Go North
White Walkers
It's Always Summer Under the Sea
Reek
The Bear and the Maiden Fair
The Night Is Dark
The Lannisters Send Their Regards
Heir to Winterfell
Mhysa
For the Realm
SEASON 4
Antes que Game Of Thrones nos decepcionara con sus dos últimas temporadas, es bueno recordar los mejores momentos de una sólida cuarta temporada con Westeros en manos de los Lannister y Daenerys tratando de consolidar su poder en Mereen.
La versión de Sigur Rós de "The Rains Of Castamere" la canción de la casa Lannister, interpretada en la Purple Whedding para el Rey Joffrey Baratheon, es sin dudas insuperable. Y un momento icónico más para la serie.
Track Listing
Main Title
The Rains of Castamere
Breaker of Chains
Watchers on the Wall
I'm Sorry for Today
Thenns
Mereen
First Of His Name
The Biggest Fire the North Has Ever Seen
Three Eyed Raven
Two Swords
Oathkeeper
You Are No Son of Mine
The North Remembers
Let's Kill Some Crows
Craster's Keep
The Real North
Forgive Me
He Is Lost
You Are No Son of Mine
The North Remembers
Let's Kill Some Crows
Craster's Keep
The Real North
Forgive Me
He Is Lost
I Only See What Matters
Take Charge of Your Life
The Children
SEASON 5
La quinta temporada del show marcó también el final del material publicado para tener como guía y referencia tanto para el público como para los guionistas. La música refleja el dramatismo de la muerte que define la temporada, además de la batalla más sorprendente entre hombres y White walkers hasta ese momento.
El uso de percusión acentúa los momentos de acción en las escenas musicalizadas. Se destaca también el coro de voces masculinas. Y los arreglos de cuerdas. Los tracks destacados "Blood Of The Dragon", "Hardhome Pt 1", "Kill The Boy", "Atonement" y "Sons Of The Harpy", entre otros.
Esta maravillosa interpretación del tema principal es sin dudas el destacado: "Throne For The Game".
Track Listing
Main Title
Blood Of The Dragon
House Of Black And White
Jaws Of The Viper
Hardhome Pt 1
Hardhome Pt 2
Mother´s Mercy
Kill The Boy
Dance Of Dragons
Kneel For No Man
High Sparrow
Before the Old Gods
Atonement
I Dreamt I Was Old
The Wars to Come
Forgive Me
Son Of The Harpy
Throne For The Game
SEASON 6
La temporada donde vemos a Game Of Thrones volver a tomar forma, con el norte regresando a los Stark. Y Cersei Lannister quedando como la Reina de Los Siete Reinos, tiene piezas musicales excelentes. Considerada como la mejor de las bandas sonoras de la serie, tracks destacados como: "My Watch Has Ended", "Hold The Door", "Needle", " The Tower", "The Winds Of Winter" destacan entre tantas, por ser momentos clave de una temporada que no decepcionó. Y sería la última en dejarnos contentos.
La canción más sorprendente es "Light Of The Seven", la música que incorpora piano por primera vez en una banda sonora para la serie. Y es la pieza musical intensa y emotiva que escuchamos en una escena magistral del final de temporada.
Track Listing
1. Main Titles
2. Blood Of My Blood
3. Light Of The Seven
4. Needle
5. Coronation
6. Feed The Hounds
7. My Watch Has Ended
8. The Red Woman
9. Hold The Door
10. Khaleesi
11. Maester
12. A Painless Death
13. Reign
14. Let's Play A Game
15. Bastard
16. Trust Each Other
17. Winter Has Come
18. Hear Me Roar
19. The Winds Of Winter
20. Lords Of Light
21. Service Of The Gods
22. I Need You By My Side
23. The Tower
24. Unbowed, Unbent, Unbroken
26. Hodor
SEASON 7
La penúltima temporada de la serie consistió de apenas 7 episodios. El regreso de un Targaryen con sus dragones a Dragonstone fue algo increíble. Aunque la anticipación por ver a Daenerys en acción defraudó un poco al hacerle perder el foco de toda su trama por rescatar a Jon Snow, sin dudas la música tuvo oportunidades para brillar.
Los tracks destacados son "Dragonstone", "I Am The Storm", "The Army Of The Dead" y "Winter Is Here". Efectivos arreglos orquestales y un reciclaje inteligente de melodías de las casas reales y personajes clave que están diseminadas a lo largo de todas las bandas sonoras, son lo que lleva cada pieza musical a un nivel de emotividad siempre superior a lo conocido.
"The Queen´s Justice" es el track que más sorprende, por su efectividad y corta duración. Y sin dudas el cameo de Ed Sheeran cantando "Hands Of Gold" una de las tantas canciones inéditas de los libros que no llegaron a la serie.
Track Listing
Main Titles
Dragonstone
Shall We Begin?
The Queen's Justice
A Game I Like To Play
I Am The Storm
The Gift
Dragonglass
Spoils Of War Pt 1
Spoils Of War Pt 2
The Dagger
Home
Gorgeous Beasts
The Long Farewell
Against All Odds
See You For What You Are
Casterly Rock
A Lion´s Legacy
Message For Cersei
Ironborn
No One Walks Away From Me
Truth
The Army Of The Dead
Winter Is Here